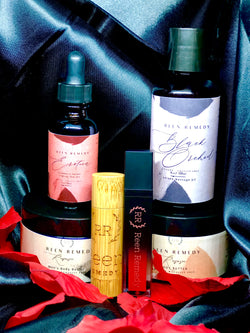 Reen Remedy
V-Day His & Hers Box
Revive women's Body Butter

Revive men's Body Butter
Lip Balm, Dayum Gina (Red) Lipstick
Rose Petals
Black Orchid Massage Oil
Erotica- Strawberry Sorbet Tingling Vulva Oil 
Scent Descriptions:
Revive women's: Invigorating citruses, fresh-cut greenery, clean-air notes, succulent pineapple, and fresh, green galbanum intertwine with sweet jasmine, aromatic balsams, juicy cherries, the watery nuances of melon, cloves, and aromatic spices. Uplifting fresh-air notes, watery notes, and the resinous nuances of sweet woods blend harmoniously to unite and enhance this fragrant accord.
Revive men's: A captivating scent for the sophisticated man. A citrusy, woodsy masculine fragrance with notes of lime and rose. A Burberry for Men type.
Massage Oil: Black orchid, black truffle, patchouli

Erotica: The sensual Strawberry Sorbet smelling Erotica Yoni - Femme Ting-A-Line Vulva Butter is made with Organic food grade ingredients that you can feel safe using on your most intimate parts.